Whew! What a week! Last Monday, I departed Tulsa for a whirlwind tour of the UK. We landed in Glasgow, Scotland on Tuesday morning and checked into the
Hotel du Vin
. This boutique hotel is 5 stars and is a series of town homes that have been converted into luxurious suites, all names after famous wine makers. I stayed in the Graham Beck room:
The suite was large and well appointed. I appreciated that upon my arrival they had classical music playing on the Bose stereo next to the bed and the windows cracked with fresh air flowing in and cooling the room. It was located on the third floor and a bit of a trek with no elevators, but luckily the bellman brought up my bags (the next day, I foolishly dragged them back down to check-out on my own!). I love staying in a hotel with room darkening curtains and these ones were luxurious silk! I took a bath in the extra long and deep tub and climbed into bed around noon. Awaking at 5 p.m. I felt somewhat recovered from my overnight journey and I headed to dinner at Cafe Gandolfi with my colleagues.
Here's a photo of me and my 20 week bump just before heading to dinner.
I stayed away from the haggis (the national dish of Scotland and featured on every menu!) and black pudding (which is not some sort of dessert made with fudge, but actually a sausage made from blood! Ew.) and went for a stuffed chicken breast with new potatoes and rocket, which is what they call arugula. That was tasty and just the right meal after a long, jet-lagged journey. We returned to the Hotel du Vin and had some tea before turning in for the night.
The next day, Wednesday, we checked out of the hotel and had a marathon visit in Glasgow. We quickly toured the local Hilton (which may serve as one of the venues for our 2011 event) and then were off to see the Old Fruitmarket which now serves as a banquet and concert facility.

Glasgow's Old Fruitmarket
Next, we saw the City Chambers (where we would host our opening night reception):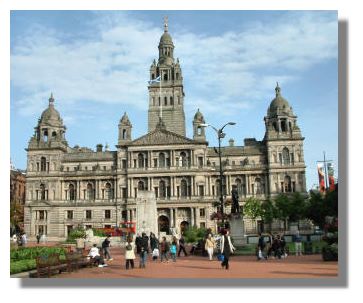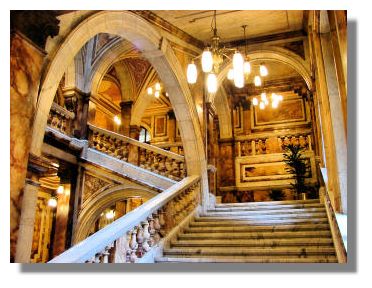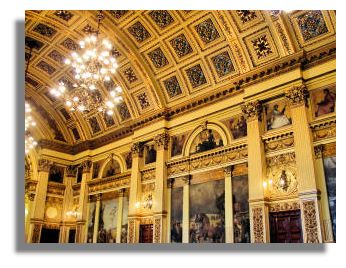 and then went the
Kelvingrove Art Gallery & Museum
, where we toured around a bit and rested a while with some tea.
From there we headed to lunch at the
House for An Art Lover
, which is inspired by
Charles Rennie Mackintosh
, a Scottish artist, architect and designer and contemporary of our own
Frank Lloyd Wright
. The building, which hosts private events and weddings, and the gardens were gorgeous and lunch was tasty.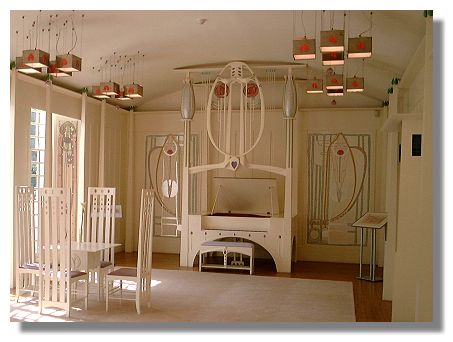 Next, it was back to the city center to tour the Royal Concert Hall (which is where we'd host our main event).
After that tour we had some tea and chatted for a while at Fifi and Ally's before heading to the airport, bound for Birmingham, England. What a day! My feet were killing me from all of the walking, especially tons of stairs, including down to the tarmac and up to the plane at the airport. We flew Flybe, which is the UK's equivalent to Southwest here. Never the less, I'd be happy if I never flew them again! That said, I'd love to return to Glasgow and really spend some quality time there, it's a great city!
Upon arriving in Birmingham around 8 p.m. we rode into the city center and checked into our suites at the Hyatt (yay for upgrades!). We were hungry and nothing on the hotel restaurant's menu appealed to us, so we sought out a nearby Italian restaurant, Piccolino's, where we ordered filet mignon and chips (steak fries) followed by yummy desserts. I fell into bed around 11 p.m. and finally dozed of around midnight.
The next morning, when I awoke, my bump seemed bigger! It was the weirdest thing! Even my colleague notice:
It's been that way ever since. Maybe the baby has moved up? I still haven't felt her kick or move (at least I don't think I have), but she's definitely taking up some more space now.
Friday morning, we headed off to visit the National Exhibition Centre, where we also had lunch and then visited the ICC, both are considerations as possible venues for our 2011 event. After touring both venues and climbing about 25 flights of stairs between the two, we headed back to our rooms to rest and freshen up for dinner, which was at Bank, where I had a delicious penne and goat cheese pasta dish with fresh asparagus and tomatoes followed by my new English obsession, sticky toffee pudding!
Friday morning we checked out of the hotel and drove down to Warwick University to see their conference facilities. After seeing their campus, including their dorms and music arts building, I couldn't help but feel that my college experience was less than posh! That afternoon, we drove down to Reigate and checked into the Bridge House Hotel. Exhausted from our whistle-stop tour, we ordered dinner in their restaurant and turned in early.
The next morning, Saturday, we checked out of the hotel and drove down to Brighton, my favorite stop of the week. This artsy beach town reminded me of my own haunts in California....sort of Berkeley meets Santa Cruz with a little Carmel-by-the-sea and Monterey thrown into the mix. We arrived early and walked down to the pier where we snapped up some souvenirs and candy to bring home.
Then we met back at the Brighton Dome, another consideration for our venues in 2011. The Brighton Dome and neighboring venue, Corn Exchange, were awesome! I loved the funky architecture and gorgeous tile work. We then scoped out the MyHotel, across the street, as a possible headquarters hotel and had lunch in its restaurant. The hotel is super chic and cool and I definitely would love staying there! It was a sunny day and we were happy to have been able to see the sea and wander through the shopping zone, called the Laines District, a bit.
After spending the day in Brighton, we drove down to the Renaissance Heathrow Hotel and checked in for our final night. The next morning we were off to the airport and nearly had an accident in the cab! The driver was insane! We made in one piece by my adrenaline was racing for sure. For an international hub, London-Heathrow airport seems a bit behind on it's security check-in process and if it were not for our "fast track" lanes due to Business Class status, I think we might have been stuck in the lines for a long, long time. We finally made it to our terminal and gate and boarded our American Airlines flight back to Chicago and then connected there to Tulsa. Exhausted, I got home, said hello to the furbabies, had a bowel of cereal and crashed until this morning.
All in all, it was a great trip. When I travel such a distance, I love to stay longer, but given that we had a job to do, I say we saw what we needed to see and now have very good options. I cannot wait to return in 2011 with Joseph and our daughter and make a vacation out of it. I'd definitely like to visit Glasgow and Brighton again and make it into London to see the sights there and possibly train over to Paris too. For a first trip to the UK, I think it was pretty great! I cannot wait until next time!